Protect the product and the patient
The sterility of the drugs is essential for the safety of the patient. The air passes through the downflow ULPA filter and into the work area as a vertical laminar flow air stream bathing the work surface in clean air. The uniform, non-turbulent air stream protects against cross-contamination within and throughout the work area.
Protect the engineers
With the HEPA H14 filters placed underneath the work surface and the inflow air having a very short pathway, aerosols generated inside the work area are retained, preventing all other air conducting channels, filters, fans etc. from any contagion. This unique design provides easy and safe 1st HEPA filter
changes under safe negative pressure.
HFsafe CY biosafety cabinets are equipped with long life ULPA filtration technology by AAF Supply and exhaust filters provide 99.999% typical efficiency for particle size of 0.1 to 0.2 microns, providing superior product protection over conventional HEPA filters.
Silicate glass fiber treated with moisture-proof hydrophobic bonding agent is folded in aluminum alloy frame to enlarge filtration area.
Leak-free performance is guaranteed through structural stability and scan test conducted prior to shipping.
Self-compensation for the clogging of filters optimizes filter use and minimizes service.

German made ebm-papst motors selected for energy efficiency, compact design, and flat profile.
Sychronously communicates with microprocessor, there is no need for manual speed control Automatically compensates for normal power line variation, air disruption and filter loading.
Motor consumes less energy, reduces heat output and operates more quietly
Two temperature-compensated airflow sensors and two pressure sensors ensure safe operating conditions are maintained Downflow/exhaust anemometers are stadandard configuration, incorporating two airflow probes respectively, quadrupling flow speed accuracy and security The pressure sensors on the downstream side of 1st HEPA filter and upstream side of main ULPA filter surveils monitor the working condition of the filtration system Six independent sensors provides instant and precise feedback to the blower so that its speed remains constant regardless of changes in conditions, such as filter loading Alarm thresholds (±10% of the control panel) are precisely controlled via microprocessor which guarantees excellent airflow performance


Filters has estimated service life, which is uncertain subject to different local air quality, research subjects and operation frequency.There is potential pollution harzard if operator is unconscious to filter expiration Patented life indicator for supply/exhaust/1st HEPA filter is designed to measure filter life according to actual condition of membrane.You can rely on filter life indicator to make a confident plan for future filter replacement.
Friendly Communication
The durable LCD is mounted at eye level for at-a-glance viewing of airflow, operating parameters, and alarm messages.
The intuitive interface delivers a constant read-out of working area temperature, air velocity/volume, filter life span, total running time.
Easy-to-clean touchpad controls allow manual activation of blower, lamp, UV, electrical receptacles and menu selection.
Engage the security lock feature to prevent access to the cabinet by unauthorized or unfamiliar users.

Robust Construction & Compact Design
Energy saving epoxy/polyester coated steel exterior with solid construction, nice looking curves and fresh colour Constructed of seamless, non-porous, autoclavable Type 304 stainless steel for working plate, one-piece side/rear walls and bottom sink.
Slim, compact design and dimensions allows for easy positioning and location in the laboratory, can be easily transported through standard 800 mm doorways.
The low cabinet height allows the choice of bench top location or mounting on a support stand, easily accommodated in a laboratory with 2.5m ceiling height.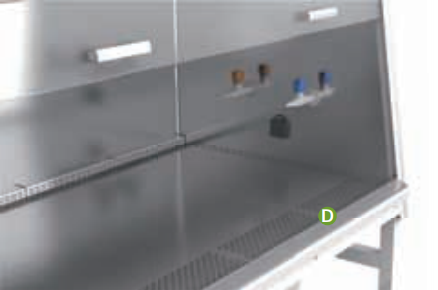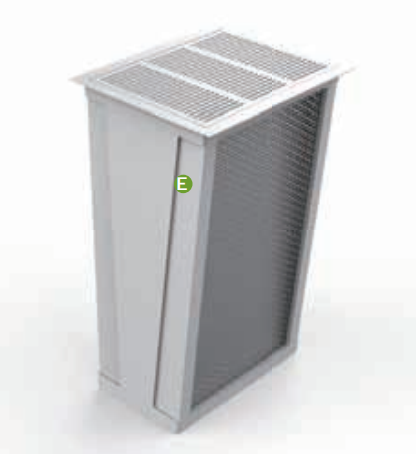 1st V-Shaped HEPA filter
An additional segmented H14 HEPA filter is used underneath the work surface, Inner air ducts, plenums and fans are protected from contamination The cumulative filtration efficiency is 99.999999995% to the downflow and exhaust airflow Incorporating separated HEPA filters, which enlarge filtration area and give a longer working life Easy and safe HEPA filter changes in the work area under safe negative pressure
Programmable automatic UV light timer simplifies operation while extending UV lamp life and saving energy.
Powerful UV irradiation illuminates entire work area, design to ensure thorough disinfection of the complete chamber UV lamp with interlocking safety switch allowing operation only when blower and fluorescent light are off and sash is fully closed.
Unique hidden UV lamp protects operator' s eyes from hurt.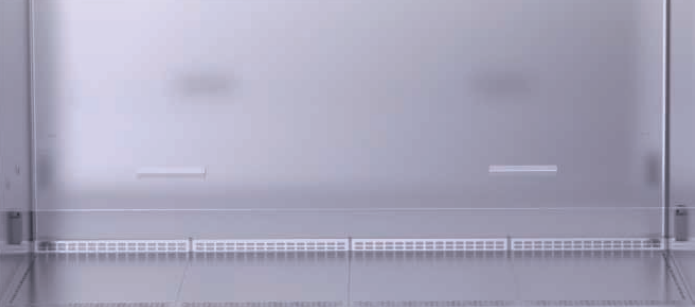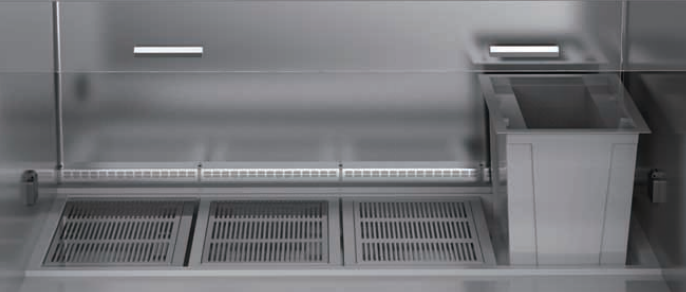 The cabinet design allows for safe filter change and disposal from within the chamber whilst the cabinet is operating, thus protecting the operator during this procedure.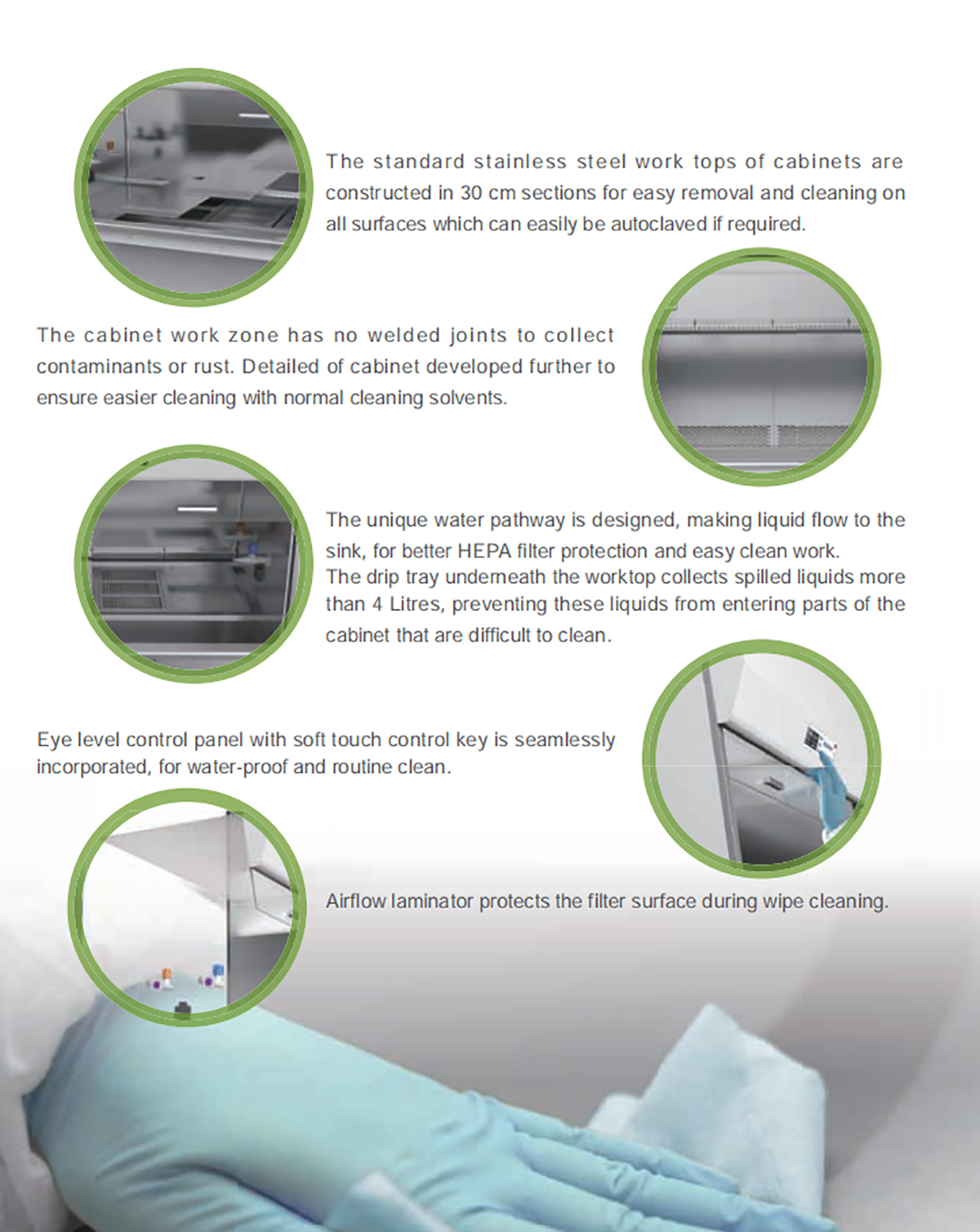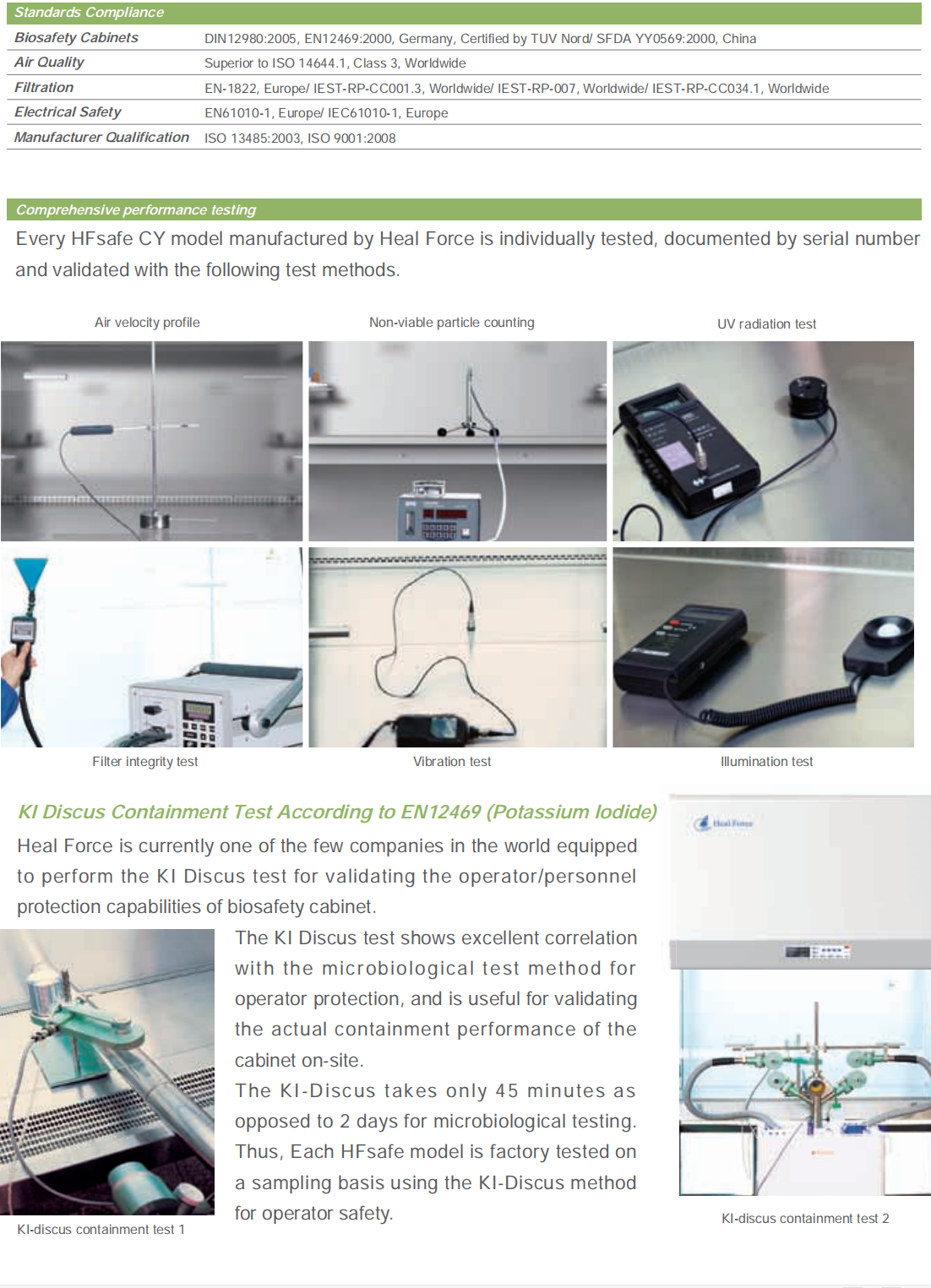 General Specifications, HFsafe CY Cytotoxic Biological Safety Cabinets

Model

Hfsafe-1200CY

Nominal Size

1.2 meters(4')

External Dimensions with Base Stand (W×D×H)

1340×850×2190mm (52.8"×33.5"× 86.2")

Internal Work Area, Dimensions (W×D×H)

1215×650×600mm (47.8"× 25.6"× 23.6")

Internal Work Area,Space

0.79m²( 8.5sq.ft)

Average Airflow Velocity *

 

Inflow

0.53m/s (104.3fpm)

Downflow

0.32m/s ( 62.99 fpm)

Airflow Volume

 

Inflow

477m³/h(280cfm)

Downflow

720m³/h(424cfm)

Exhaust

477m³/h(280cfm)

ULPA Filter Efficiency

 

Downflow

Filters provide 99.9995% typical efficiency for particle size of 0.1 to 0.2 microns

Exhaust

Filters provide 99.9995% typical efficiency for particle size of 0.1 to 0.2 microns

HEPA Filter Efficiency

 

1st V shaped filter

Filters provide 99.995% typical efficiency for particle size of 0.3 microns

1st V shaped HEPA filter no.

4

Biosafety Protection Test

 

Personnel Protection Test

KI-Discus containment and microbiological testing is performed

Product Protection Test 1~8×106 (three times in succession)

≤5CFU

Cross-contamination Test 1~8×106 (three times in succession)

≤2CFU

Sound Emission (Typical)*

 

NSF/ANSI 49

<65dBA

EN 12469

<60dBA

Fluorescent Light Intensity

800~1200Lux (74 ~ 112 foot candles)

Excellent light distribution

Yes

RMS

≤5um

Cabinet Construction

 

Main Body

1.2mm(0.05'') steel with white oven-baked epoxy-polyester

Work Zone

1.5mm(0.06'') stainless steel, type 304

Side Walls

1.5mm(0.06'') stainless steel, type 304

Window material

Hardened/laminated safety glass

Front aperture opening height

200mm

Backward-slanted safety glass angle

8

Electrical

 

Cabinet Full Load Amp(FLA)

2A

Fuses (A)

10

Cabinet Nominal Power

360W

Optional Outlets FLA

5A

Total Cabinet FLA

7A

Power Supply**

 

220V/50Hz

Yes

220V/60Hz

Yes

110V/60Hz

Yes

Net Weight

331kg(730lbs)

Shipping Weight

468kg(1032lbs)

Shipping Dimensions Maximum(W×D×H)

Box1. 1426×946×1710mm (56.1''×37.2''×67.3'')

Box2. 1496×716×963mm (58.9''×28.2''×37.9'')

Shipping Volume, Maximum

Box1. 2.31m³(81.5cu.ft.) Box2. 1.03m³(36.4cu.ft.)